Another distributions test, this time iteratively growing a colony of points over surfaces.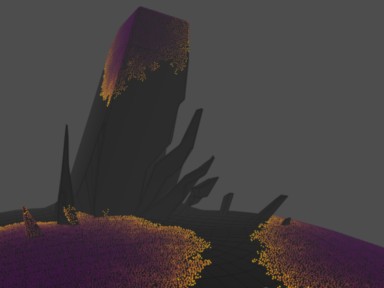 test one
I have been working on my random point distributor nodes in XSI ICE. Now it can generate new candidates nearby existing points.
Once the successfully placed points reach a certain age, they stop attempting to place new points.
It works well, reaching a nice, surface-covering state quite quickly. Just like my last test, this system is never aware of a completely packed state, but it's really easy to see when the point-addition is exhausted.
Here is a vimeo of it in action

XSI ICE colony 1 from benp on Vimeo.
I have quite a way to go towards packaging this into a compound.
I will definitely provide a download when I do, though.
The process of adding new points to the cloud conditionally has been quite an effort to work out.
Imagine what it would look like with two colonies, different colours, collide and start wiping each other out!
Tags:
3d
,
ice
,
particles
,
softimage
,
xsi